YouTube Captioning
Captioning Instructor-Owned Content in YouTube
There are two main ways that YouTube videos are used as part of instruction. First, instructors may create their own content with recordings using a service such as Zoom or Quicktime, or they may create a voiceover PowerPoint and save it as a movie file, and then upload those videos to YouTube to have an easy way to share the videos with students. YouTube offers automatic captions that will be available as long as a video language is chosen. Please note that it can take up to 24 hours for the automatic captions to generate in YouTube.
The video below will walk you through the captioning process in YouTube.

Searching for Captioned Material in YouTube
Many instructors use videos sourced from YouTube that are created by other individuals or organizations. These third-party videos are sometimes already captioned, even if it is just the baseline automatic captioning provided by YouTube. It is easy to search for captioned versions of a video in YouTube following the steps below:
If you have a video that you plan to show or share that doesn't have captions, there are a couple of places to search for already-captioned content. We will walk through the steps to search for captioned videos in YouTube and Amara.
YouTube
In your browser, navigate to youtube.com.
Enter your search term.
Above the list of search results, choose "Filter" as shown.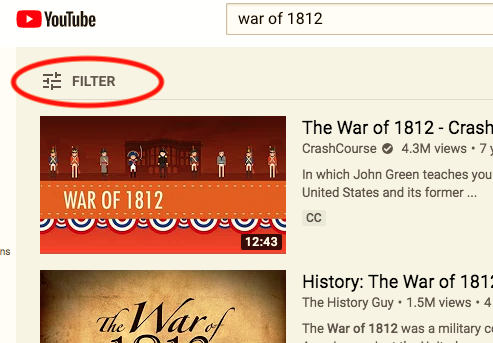 In the filter options, choose Subtitles/CC to filter results to only those videos that have captioning.